What is sponsored coaching via voucher?
With AVGS coaching, job seekers receive professional support from experienced coaches in their career reorientation and in the application phase. This measure is supported by the employment agency or the job center, namely via the so-called activation and placement voucher – AVGS for short.
With this voucher, you will receive free individual coaching tailored to your needs at SEQUOYA in Berlin. We support you in getting back on your feet professionally, advise you on suitable further training for new professional skills and work together with you on your strategy for job applications.
Our professional job coaching, which is supported by the AVGS voucher, provides you with free and individual coaching and paves the way to a new, professional future.
Who can apply for an AVGS?
The target group for the activation and placement voucher (AVGS) includes:
If you are one of them, ask your employment agency for an AVGS to provide you with one-on-one coaching and reorientation and to prepare you optimally for (re)entering professional life.
There are different types of AVGS coaching that have different goals: a job and application coaching, a probationary period coaching and a start-up coaching. Decide which coaching best suits your individual situation. With us, you will be professionally accompanied in any case.
What are the goals of AVGS coaching?
The overarching goal of this measure is (re)integration into the labor market. As a certified provider, SEQUOYA offers you the following AVGS coaching courses.
Advantages of AVGS coaching
Who is which AVGS coaching suitable for?
The situations and needs of our AVGS customers can be very different individually. Fortunately, there is a suitable solution for every person.
How does AVGS coaching work?
The process for AVGS coaching consists of seven phases. We are happy to accompany you every step of the way – from applying for the coaching voucher to successful completion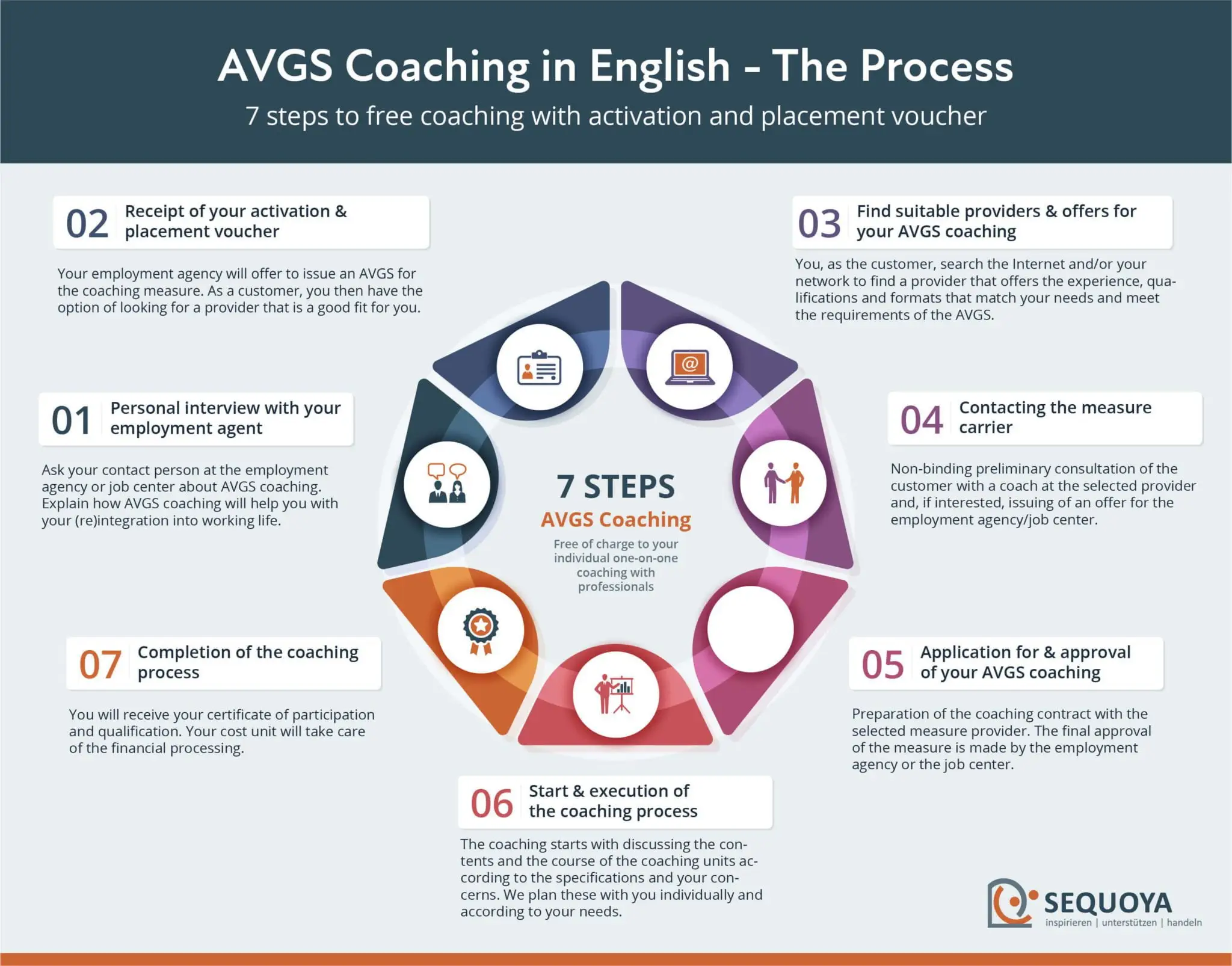 Step 1: Personal interview with your employment agent
Ask your contact person at the employment agency or job center about AVGS coaching. Explain how the coaching will help you integrate into working life.
Step 2: Receipt of activation & placement voucher
Your employment agency will offer to issue an AVGS for the coaching measure. As a customer, you usually have a free choice of provider.
Step 3: Find a suitable provider for AVGS coaching
You choose a provider that offers the experience, qualifications and formats that fit your needs and that meets the requirements of the AVGS. SEQUOYA is certified for this measure.
Step 4: Preliminary coaching meeting
Non-binding preliminary talk with the coach at the selected provider. If you are interested, we will prepare an offer for you as the sponsor for the employment agency/job center.
Step 5: Application for & approval of AVGS Coaching
You conclude a coaching contract with us as the measure provider. The final approval is given by the employment agency or the job center.
Step 6: Your coaching begins
The coaching process starts by discussing the schedule - according to your concerns. We plan content and dates so that they fit your personal situation.
Step 7: Conclusion of the coaching
You receive your certificate of participation, and if necessary we recommend qualification options or continuation of the coaching. We take care of the financial processing as a measure provider in direct contact with the employment agency or the job center.
What types of AVGS coaching does SEQUOYA offer?
Job & Application Coaching
Professional (re)orientation

Potential analysis

Career prospects

Application strategy

Application documents

Job interviews
Our job coaching offers you support in career orientation and (re-)entry into professional life. Preparing and accompanying the application process can also be part of career coaching.
More about sponsored job coaching
Onboarding Coaching
New work environment and tasks

Integration ins Team

Understanding the corporate culture

Time management and work-life balance

Professional skills and potentials

Support with personal problems
During onboarding coaching, we are your professional partner for all questions, concerns and fears with regard to the new challenges and your new role.
More about sponsored onboarding coaching
Start-Up Coaching
Accompaniment through the foundation phases

Founder personality and business idea

Recht­liche Grund­lagen, Versicherungen und Steuern

Market and target group analysis

Market strategy and sales

Concept development and business plan
The start-up coaching provides the necessary skills for successful self-employment. We accompany you professionally during a concrete start-up process, so that you can comprehensively build up your entrepreneurial existence.
More about sponsored start-up coaching